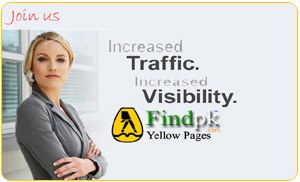 ::. Contact Name:
Mr. Muhammad Zohaib Khan
::. Designation:
CEO
::. Address:
C-1, Mezzanine Floor, Sunset Lane # 3, Phase II. Ext. DHA
::. City:
Karachi
::. Postal/Zip Code:
n/a
::. Telephone:
922135385205
::. Fax:
None
::. E-mail:
n/a
::. Website:
http://www.
Company Products & Services:
Software Houses, Website Designing, Computer Consultants, Computer Graphics Animation, Information Systems Consultants, IT Consultants, Internet Consultants, Internet Products, Internet Services, Internet Web Page Designing, Turnkey Projects, Website Development, Web Hosting, Website Consulting, Technical Support, Website Developer, Web Developer, ECommerce Solutions, Software Programmers, Developers Softwares, Engineers Software, Applications Developers, Consultants Software Projects, EBusiness Solutions, Software Implementation, Domain Registration, Email Services, Multimedia Application Developers, Flash Intro, Web Portals Development, IT Consultancy, Customoized Software Development, E-Commerce Solutions, Network Solutions, Network Support Services, PowerPoint Presentations, Autorun CD ROM Presentations, Interactive CD ROMs, Dynamic & Animated Interactive Multimedia Presentations, Stationery Designing





Find Location Map (You may alter the address to find the desired location, if exact location is not found, try searching street/ area, city, pk, dabble click for Zoom-in and Right dabble Click for Zoom-out. drag your mouse for right-left or up-down move)





Share, Print or Email This Result



Update OR Upgrade Your Company Record


Be on Top of Your Competitors

Stand Out

from Your Local Competition

Beat out the competition with advertising solutions that attract more customers who are ready to buy your products & services.



Search powered by CCOL
Copyrights 2003-2010 © All rights reserved CYBER CITY ONLINE